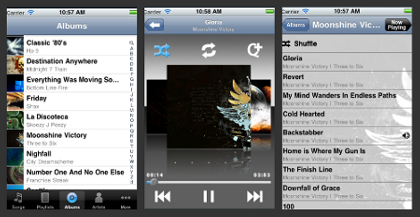 mSpot's iPhone App will move your iTunes to the Cloud. So what's the big deal? It's the end of constantly updating your iTunes library on every single one of your devices- iPhone, iPad, and computer. Moving your iTunes to the Cloud means instant access to your music collection-on the device of your choosing.
Find it annoying tracking down the different USB cords to update your devices individually? So do we. Our App doesn't need a single cord, yet all your music is right there at your fingertips. No more irritating manual updating: mSpot's Cloud music App will keep your smartphone, tablet, and computer current.
When you spend $12 for a new album, it seems like you should be able to listen whenever you want and instantly. This is what mSpot can do for you-simple, easy access to your music.
With mSpot you don't have to worry about deleting your kids' cartoons to make room the new Arcade Fire album you just bought (like me!), or uploading your favorite podcast for entertainment during your morning commute-it's your music without limits.
-Daren Tsui, CEO of mSpot