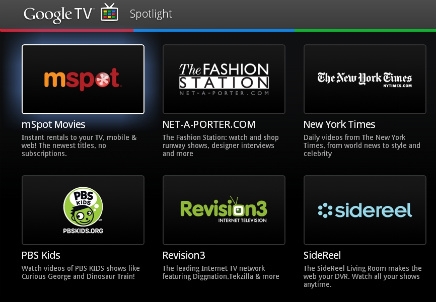 Smartphones, PCs, Tablets, and now TVs. Next? Your Toaster maybe?
Web-based TV is the latest platform to join the ranks of mSpot supported platforms. We want you to be able to access your music and your movie rentals from everywhere - on your computer, tablet, mobile phone and now: your television.
Now you can stave off boredom during your evening commute by watching Jeremy Renner and Ben Affleck as the Bostonian bank robbers you just can't help but root for, in The Town. Didn't get through the whole film? No big deal. When you get home you can finish up with the final, epic heist in your living room with mSpot's Movie App on your WebTV.
Our cloud-based entertainment streaming services are a perfect match for Web TV's application-based operating system-so it is no surprise that mSpot is currently spotlighted in the Google TV store.
mSpot+Web-based TV means you only need a single login to have your music library and movie rentals at your fingertips - across all your devices without cords. From your sofa you can scope out our free sample movie, see the newest DVD releases, browse classic titles by genre, check out cover art, and determine exactly what some less articulate singers are actually saying-yes, we are looking at you, Anthony Kiedis.